Acquainting Yourself with the Plesk Interface
After logging in to Plesk, you are presented with the Plesk graphical interface. Various tools and controls that will help you run your business are ordered by function and arranged into sections displayed on the left side of the screen.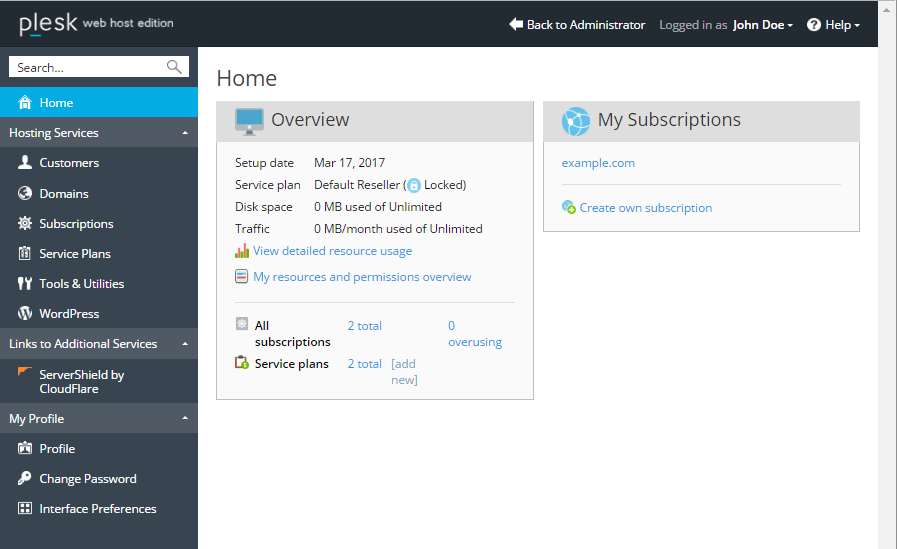 You land on the Home section when you log in, and go from there depending on the task you need to accomplish. Here is a short description of sections and the tasks that can be performed on each one:
The Home section gives you a bird's eye view of your account. It displays vital information, such as how much disk space and traffic your account is currently using versus the maximum allowed amount (note that this includes both your subscriptions, if you have any, and those of your customers), or how many customers are overusing resources. It also provides a list of all subscriptions you own, as well as the name of the reseller plan you are subscribed to, the number of subscriptions and service plans you created, and more.
The Customers section lets you see and manage your customers. You will need to create a customer account for every client you onboard, and this section is where you do it. You can add or remove customer accounts, suspend and activate them, and also change their settings.
The Domains section lists all domains on your account, including domains that you own and those of your customers. Here you can add or remove domains, subdomains, and domain aliases. You can also suspend and activate them, as well as change their hosting settings.
The Subscriptions section contains all subscriptions on your account. This includes both your own subscriptions and those of your customers. Note how this is different from customers and domains, since one customer can own a number of subscriptions, and every subscription can have more than a single domain on it. In this section you can add or remove subscriptions, suspend and activate them, and also change the service plan for one or more subscriptions or re-assign them to a different customer, and also change their settings.
The Service Plans section is where you manage your service plans. You can add, clone, or remove plans and add-on plans, as well as change their settings.
The Tools & Utilities section contains a number of useful tools that help you keep track of how much resources you are using, and that let you change various settings related to your account. You can also back up websites belonging to you and your customers on this tab, and also change the way Plesk is branded to match your company's image.
The WordPress section lets you view and manage WordPress installations on your own subscriptions as well as on the subscriptions belonging to your customers. You can manage WordPress installations either from this section or from a subscriptions settings screen. For details, refer to WordPress Toolkit.
The Profile section lists your contact information, which is only visible to you and your service provider. Make sure you keep it up-to-date in case the provider needs to contact you.
The Change Password section enables you to change the password you use to log in to Plesk. Note that you cannot change your username. If you want to change your username, contact your provider.
The Interface Preferences section is where you can change your language preferences, and also select your interface view.